More leaders, experts, and journalists are finding out about the toxic leadership and spiritual abuse happening within the Church, and they're writing about it. This kind of behavior from the very ones who are called to shepherd God's people "counters the gospel and fights the very character of Jesus himself," writes Scot McKnight in an article for Christianity Today called, Help, My Pastor is a Narcissist.
Three outspoken proponents of change in the Church with different kinds of experiences and backgrounds will release books this fall. I'm relieved prominent leaders and Christian journalists are devoting time to write and speak about the problem. My hope and prayer for the Church, shared by others revealing the dark under belly of Giant Church Inc, is that we would turn away from our idols and fix our eyes again on Jesus.
Look for these books coming in October. Also, listen to the podcast I mention below from one reporter who works to report the truth, and restore the Church.
Change Makers
Dr. Diane Langberg is a Christian psychologist whose work helps abuse and trauma victims. She's been doing this good work for over four decades. She speaks all over the world about the dynamics of power, abuse, narcissistic systems, and the necessity of finding our hope in Jesus and learning how to care for others the way he cares for us. Each time I hear her speak, I feel nearer to Jesus. She is a true shepherd. You can learn more about her work at her website.
Wade Mullen recently shared the news about his upcoming book available on October 6, 2020. Not only has he experienced spiritual abuse, he is now an expert in abuse tactics and impression management used by Christian organizations, churches, and leaders.

If you want to learn more about how to spot spiritual abuse and know the language used by toxic leaders, follow him on Twitter. He is also a frequent podcast guest when the topic is spiritual abuse because of his extensive knowledge on the subject.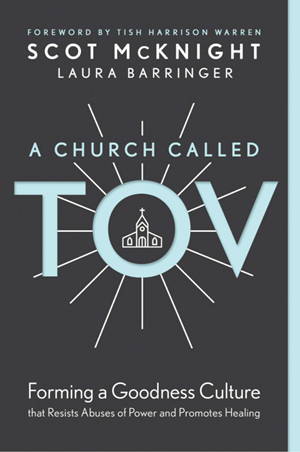 In the above mentioned article, Scot McKnight tells us what a toxic or narcissistic pastor looks like, then tells us how to stop enabling them.

In his book, he and Laura Barringer write about a church culture that resists abuses of power and promotes healing, by forming a goodness culture. He also generously mentioned Chuck DeGroat's book, which is dedicated entirely to narcissism in the Church. I was part of the book's launch team and reviewed it in the post When Narcissism Comes To Church.
These books will help us learn how to spot spiritual abuse, what to do about it, and lead us to a path of healing.
Truth Tellers
Journalists are important in bringing awareness to abuse and misuse of power in the Church. No other reporter has informed me more as I write about my Giant Church Inc experience than Julie Roys. One of her recent podcasts featured Dr. Julia Dahl, an image repair analyst. Dr. Dahl explains how leaders and organizations "spin the truth to fit their self-serving narrative." This is an enlightening podcast. You'll recognize several of the tactics mentioned because more than likely, you've experienced them. I'm thankful for Julie's continued work to expose abusive pastors and systems.
Church, let's stop pretending we don't see the abuses happening at Giant Church Inc. Let us no longer enable these kinds of systems and leaders. Let us walk in the light and let us shine light in the dark places.
Then Jesus again spoke to them, saying, "I am the Light of the world; he who follows Me will not walk in the darkness, but will have the Light of life." John 8:12
Photo by Josh Calabrese on Unsplash