The latest evangelical scandal hasn't only been top news in Christian and religious circles, it's reached the secular news cycle as well. The repercussions of the scandal are far reaching. In an article for RNS, Kyle J. Howard summarized Ravi Zacharias' grievous actions, "the public learned Zacharias was not only a sexual predator, but a spiritual abuser who twisted the Christian faith in order to justify his actions and silence his victims." Many are asking, myself included, how decades of predatory behavior, mismanaged ministry funds, fake credentials, and other abuses were dismissed or ignored. Who knew and for how long? An entire system allowed this to happen, one that needs to be dismantled.
As more people speak out, as we learn about the abuse of power and what it looks like, as we do the hard work of discipling those who intend to follow Christ, and as we take responsibility for creating cultures of goodness, Giant Church Inc will be less and less influential and appealing.
Red Flags
Giant Church Inc and its leaders follow particular patterns. The following is a list of red flags to watch for that indicate an environment ripe for abuse.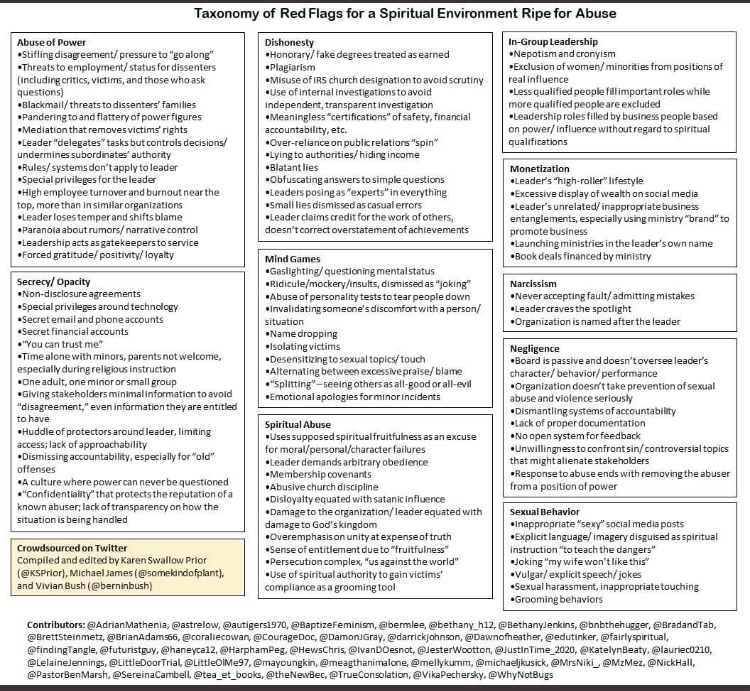 I share this with permission of the creators. Please take the time to read over the list and highlight the ones you see happening in your church, church planting network, or Christian organizations and ask for God to give you the courage to see the truth. When we ignore, minimize, or refuse to see the toxicity of these behaviors, we enable the abuse.
The EIC
I recently learned that Giant Church Inc was defined years ago but called by another name: the evangelical industrial complex. Giant Church Inc and the evangelical industrial complex are the same.
This is one of the best discussions I've heard on the subject. They talk about Giant Church Inc in depth, how it happened, what perpetuates the problem, and ways we can stop being part of the problem. Julie Roys and several pastors enter the discussion, as well as Janice Lagata, a founding member of Hillsong New York.
Whether you attend church or not, you'll enjoy this conversation. Julie makes a good point in the conversation when she reminds us that Giant Church Inc or the EIC is "fed and fueled by the masses. We need to start taking responsibility that we can't just give money to an organization and trust them and then wash our hands of it and say we're not responsible for what they do with it. We're responsible to be wise as well."
We Are Responsible
Let's be wise. Let's ask the tough questions. Let's stop supporting organizations that refuse to be transparent. Let's stop ignoring the red flags. Let us fix our eyes on Jesus.
How can you believe since you accept glory from one another but do not seek the glory that comes from the only God? John 5:44 NIV